Inchcape Shipping Services Vice President of Maritime Services for the Americas, Joseph Bruno, explains how the company aims to soften its market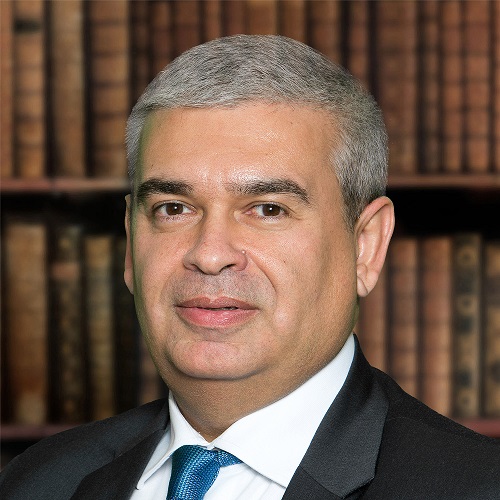 Joseph Bruno is bubbling with enthusiasm for his new role and looks forward to relocating to Inchcape Americas' Houston hub to lead a new regional leadership team supported by local know-how, cutting-edge technology and a new consolidated network of regional teams. Operations Centers (ROC).
At the moment, he shuttles between Rio and Santos in Brazil, but aims to be in the United States by January. "It's so much more than geography," says Bruno. "Our goal is to be the number one shipping agent in the Americas. We want to double our volume and be recognized as the most reliable player in the market.
He first wants to dispel any lingering notion that Inchcape is a pure tanker specialist. "They are still our biggest source of revenue globally and in North America, but we also have a lot of experience handling dry bulk carriers, for example. For the United States, this is a major growth area alongside project cargo, breakbulk, marine and cruise," he says.
"It took time to build a solid team, as well as a lot of market information. But now we are here – with 300 employees in 195 ports supported by excellent IT infrastructure and a brand new structure to support business development. Now, we are firmly focused on how we can improve our customers' businesses – across all industries – at the best price.
It's all about trust
The shipping agency is globally fragmented – small local agents represent 80% of calls. Although the North American market is dominated by a handful of larger players, there are still around 300 agents in the United States alone, groups of single men. "We believe that the lack of trust is at the heart of this fragmentation," says Bruno. "Trust is crucial for agents and operators to cooperate successfully, and it's at the heart of everything we do. Our goal is to drive operational transparency through technology, standardized service levels and integrated global compliance. This kind of value is hard to beat.
Bruno is confident that Inchcape can grow its market share as, arguably, the only pure global shipping agency (although it also offers full freight agency, dry docking, survey and inspection, crew logistics, financial management and cargo calls). "Globally, we have just under 3,000 employees and handled 65,000 stopovers in 2019, as well as thousands of crew changes," he says. "It's a great springboard for growth."
Inchcape saw that the best way to streamline service delivery was to unify the Americas into one region, with ROCs ensuring quality based on best practices. "With ROCs, we can consolidate responses and increase response times. We can look at the entire journey from a meta-level and provide personalized insights into the best service options while minimizing downtime and delays," says Bruno.
Communication is everything
"Shipping is not 9 to 4. You have to be ready for anything, and ROCs provide much better coverage for all ship stakeholders. They provide a 24/7 flow of information throughout the region from Monday to Monday. Time is money and our goal is one-stop communication," he says.
ROCs are also essential to optimize internal dialogue. "Having dispersed people working in synergy makes it much easier to solve and anticipate problems. Sharing the experience of peers really brings things together," says Bruno.
Inchcape Americas' four ROCs in North America include New York covering the East Coast to the Everglades; San Francisco covering west to Vancouver; Houston covering the entire Gulf of the United States except for New Orleans; and New Orleans covering the many Mississippi terminals. Panama covers the Caribbean, Central America and Mexico. Valparaiso includes Chile, Ecuador and Peru, with Rio taking care of the east coast of South America, with the exception of Uruguay, where Inchcape works with a business partner.
Digital tools
"Technology is critical to our brand differentiation and optimal operational performance," says Bruno. "Our two digital pillars are our Port World [WoP] application, the latest iteration of which we launched in June, and our Optic operating system, which we are currently deploying.
WoP is a constantly updated, single-source digital service based on data from Inchcape Shipping Services' global network of 4,600 ports, 15,000 terminals and 36,000 individual berths. Using a Google Maps interface, users can get precise details of port settings and restrictions, while built-in AIS feeds track vessel movements for optimal arrival and departure. It also includes enriched port data – including environmental information, facility details and operational notes – with a customizable customer dashboard and vessel alerts. "There is nothing comparable there," says Bruno. "By the end of 2020, we will have 100% coverage, with our local service teams acting as the eyes and ears of our customers in the field to ensure maximum business efficiency."
During this time, Optic captures all operational, financial, timing and event data from each port. "You can see what your assets are doing in as much detail as you want, when you want, and how you want," says Bruno.
COVID impact
In addition to accelerating digitization, Bruno says the pandemic has necessitated new on-the-fly work routines. "Our people and our IT infrastructure have proven themselves and we are very satisfied," he says. "The speed of adaptation highlights our strength as a global player and shows that we are more important than ever in times of crisis."
"We have been around for a long time and it will stay that way. We have been through two world wars, the Spanish flu and recessions," explains Bruno. "Our size and our financial strength are a factor of comfort, especially for shipping companies in economic difficulty. Can you be sure your money is safe if you are asked to pre-fund an agent with 80% to 100% of the calls coming? Will they still be in business when your ship arrives? With Inchcape, there is no risk," says Bruno.
Inchcape estimates a 5-7% drop in maritime trade as the world readjusts. Some sectors such as cruise have seized up, but others are still on the right track. "After a 20% reduction in activity in April/May, things are starting to rebound, especially crew changes. This in itself has generated loads of work for our service teams, with the organization of tests Covid, social distancing and canceled flights. They are on the front line to find solutions, visit ships and work remotely," says Bruno.
It highlights Inchcape's 93% acceptance rate and 80% response rate in quality surveys since Covid hit. "Each vessel receives this automated form. The feedback covers not only the port call but all breeding services. More than 90% of customers say they are satisfied," he says. "For the United States, it's quite a special sauce as we grow our pie of the Americas."
Bruno the guy
From his accent, you could take Bruno for a Briton. He grew up in Jersey in the Channel Islands. "My parents are Portuguese, but we only moved to Brazil when I was 15. I barely spoke the language, but you just have to keep going," he says.
As a young man he had a passion for aviation, but it was his English that got him his first job in a Greek supply ship in his hometown of Santos. "I was 17 years old. That was 34 years ago and it's been going on ever since," he says.
Besides shipping agency and stevedoring, Bruno also spent two years working for a global container line in Venezuela and three years in Recife opening a new terminal for a multinational. "I was fortunate to have a good understanding of the business from many angles – as a customer, service provider and agent," he says.
Bruno is back to his roots at Inchcape. "The agency is like a black hole. It keeps sucking you in," he jokes. "But I love it because it's so dynamic. You never stop learning. Always new challenges. Many different cultures. More importantly, 80% of our service is based on interaction. I really enjoy developing people and seeing them succeed.
Bruno is married and has an adult daughter from his first marriage and a 20-year-old daughter from his current marriage. Outside of the office, his interests include sports, football in particular, as well as history and aviation television shows. He will be at home in Houston.
This article is sponsored by Inchcape Shipping Services.
The views expressed here are those of the author and not necessarily those of The Maritime Executive.