Laing O'Rourke's new chief executive, Seamus French, has removed several trading names from the UK business and streamlined it into five legal entities.
French said the move would reduce administrative costs and simplify the reporting structure for UK business.
French, who is managing director of O'Rourke's European hub, which includes its UK, Canada and Middle East operations, said: "This much simpler corporate structure is a positive development for the company. company and all our stakeholders.
"The restructuring will simplify our financial reporting process and ensure that we can manage our corporate structure more efficiently, allowing management to focus their time on managing the key business companies that will drive business growth."
The company's UK companies have already filed individual earnings packages with Companies House with the largest, Laing O'Rourke plc, including its construction, manufacturing and factory lease work.
O'Rourke said five operating businesses (see box) will now report to Laing O'Rourke Holdings.
• Laing O'Rourke Delivery, which will combine Buildings and Infrastructure trading activities;
• Explore 2050 Engineering, comprising Expanded, the specialized civil engineering and structures business, and Crown House Technologies, the specialized MEP business;
• Explore 2050 Manufacturing, which will include Laing O'Rourke's two UK manufacturing plants – Explore Manufacturing in Nottinghamshire and CHt Manufacturing in the West Midlands – as well as geotechnical firm Expanded Piling and specialist stone contractor Vetter;
• Select Plant Hire remains a stand-alone commercial enterprise for cranes, plant and equipment; and
• Laing O'Rourke Services, made up of employment entities, as well as companies specializing in digital design and recruitment
The company said the changes will not affect the management teams of any of Laing O'Rourke's specialist business units.
Madeleina Loughrey-Grant, Group General Counsel at the firm, added: "These structural changes represent another step in our governance journey, simplifying compliance and governance and further streamlining our corporate governance and ESG reporting.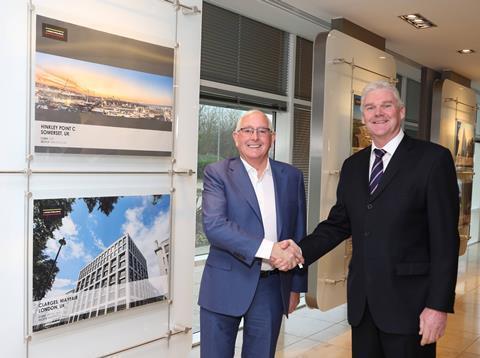 Last summer, founder and chief executive Ray O'Rourke said the company was planning an IPO by 2024, ending more than 40 years of family control.
O'Rourke founded R O'Rourke & Son in 1977 as a concrete contractor, but broke into the mainstream contracting market in 2001 when it sent shockwaves through the industry by buying Laing Construction from John Laing for £1, later changing the name to Laing O'Rourke.
French is due to succeed O'Rourke as head of the nation's largest private contractor at the end of the summer.